Governor Akinwunmi Ambode of Lagos State says he is leaving office a wiser man, months after the All Progressives Congress (APC) in Lagos settled for Babajide Olusola Sanwo-Olu to succeed him.
Ambode lost a bitter primary election to Sanwo-Olu after accusing his party's handpicked candidate of all sorts.
Sanwo-Olu would go on to win the March 9 governorship election in Lagos, defeating Mr. Jimi Agbaje of the People's Democratic Party (PDP).
While fielding questions from State House correspondents after a meeting with President Muhammadu Buhari on Monday, May 13, 2019, Ambode expressed gratitude to God for giving him an opportunity to govern the state for the past four years.
Governor Akinwunmi Ambode of Lagos had a meltdown on television during the primary election season (ChannelsTV)
The departing governor said he has touched humanity through the services he rendered to the people of Lagos.
The News Agency of Nigeria (NAN) quotes Ambode as saying he mounted the leadership of the state as a technocrat but he is now leaving as a better and wiser politician.
"Every politician learns every day. The mere fact remains that I came in as a technocrat so I used to call myself a techno-politician and I think I am wiser now, I'm more of a politician than a technocrat", Ambode said.
The Lagos governor added that: "I have a few days in office, may be 16 days or so to leave office but what is most important is that I was able to have that opportunity from God to be elected as governor of Lagos and also to touch humanity in a way that I deemed fit.
"We did our best and most of all our projects and the things we did in Lagos were more or less people friendly and I just think that a lot more people have enjoyed the benefits and the dividends of democracy than we actually met. It gives me joy that you are able to touch lives wherever you find yourself.
"You have to just make positive difference to people or Nigerians, that's the whole essence of service. I'm grateful that I had that opportunity".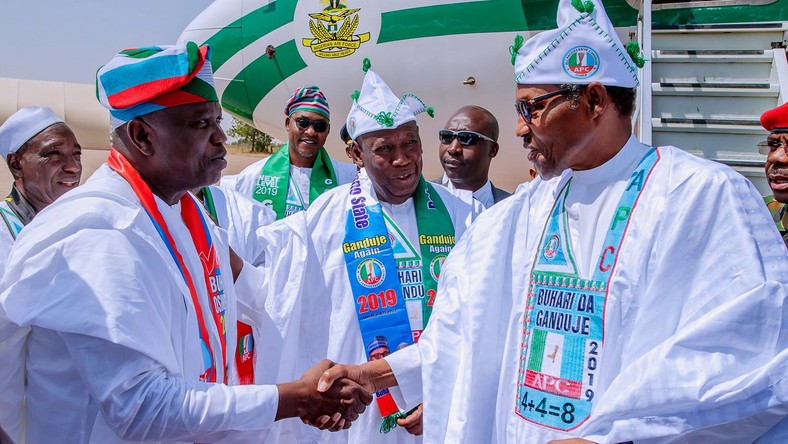 Ambode and Buhari have become buddies since the downturn in the governor's political fortunes (Presidency)
Ambode said he was in the State House to thank President Buhari for embarking on an official visit to Lagos few weeks ago.
Buhari visited Lagos to commission a handful of yet-to-be-completed developmental projects undertaken by Ambode.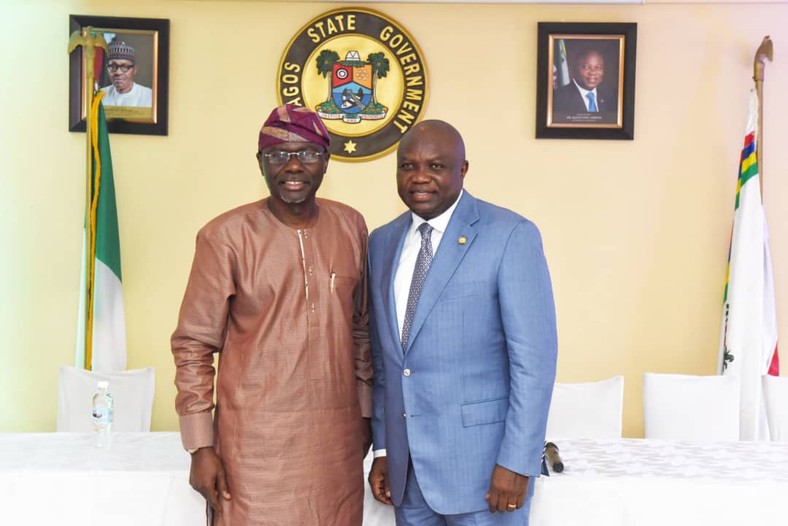 Ambode played host to Sanwo-olu after the APC primary election which he lost (Lagos Govt House)
Ambode would go down as the first governor of Lagos not to serve a second term in office since Nigeria's return to democratic governance in 1999.
Mr Sanwo-Olu, 53, will be sworn in as the new Lagos Governor on May 29, 2019.